SendPro® C200 sending solution
Easily print discounted USPS postage for letters and flats.
Accurately weigh light packages with integrated scale.
Compare shipping rates across major carriers in one interface
Access to SendPro® Online to ship from any PC.
Ways SendPro C200 can help you


Weigh packages

The built-in scale accurately weighs all of your mailings – from postcards to packages – so you get the right postage every time.


Print postage

Print accurate postage on envelopes or labels and refill postage digitally in seconds.


Simple touchscreen

Simple, color touchscreen display helps you easily compare carrier prices and track the location of every letter and package you send.


Save money

Enjoy exclusive postage discounts - save 5¢ on every stamp you print and up to 40%2 off retail shipping rates - not available at the post office.
Top SendPro C200 features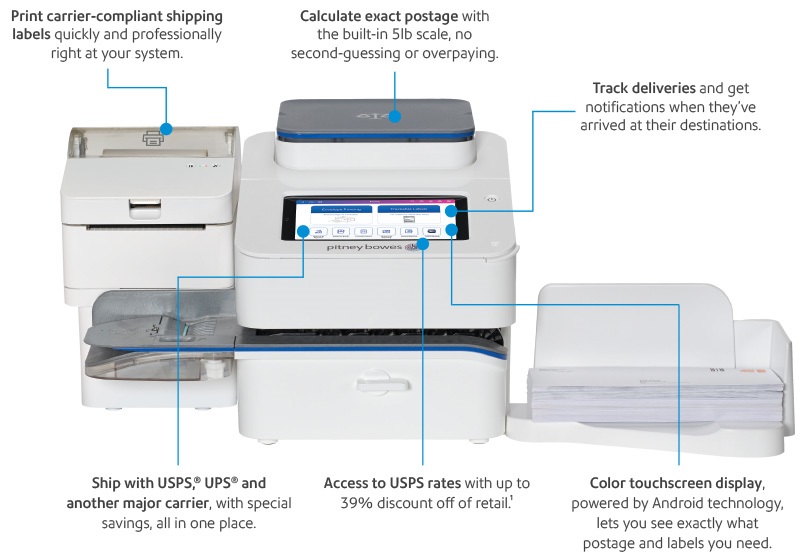 Easy to use: The color touchscreen display helps you make you make the ideal choice of carrier and services for your needs. It's digitally connected to keep you up to date with postal rates. Plus, it's designed for low maintenance and ease of learning.
Save money every time: Accurately weigh your mail and packages to calculate the correct postage amounts. You'll also gain access to exclusive USPS and UPS shipping discounts, and save on every letter you send with the C200.
Fast and efficient: Process envelopes up to 40 letters per minute. Plus, the built-in envelope sealer helps you speed through your mail.

What comes with the meter:
Scale, starter ink cartridge, cables (power cord and internet), 50 postage tapes, E-Z Seal
Dimensions:
16 1/2" L x 15 1/2" D x 11 1/2" H (with integrated scale)
Envelope processing:
Up to 40 letters per minute; semi-automatic feeding
Connectivity Standard:
LAN (wired) or Wi-Fi (wireless)
Envelope sizes:
Up to 3/8" thickness. Media sizes: 3" x 5" up to 13" x 15"
Shipping label printer (4" x 6"):
Optional; Compliant to USPS and alternate carriers
USPS retail rates and extra services:
Standard; No Presort rate option, Electronic return receipt: Not available- use standard USPS return receipt USPS shipping (Commercial Base Pricing): Standard
Multi-carrier shipping
Optional; Use existing business account (UPS and other carrier)
Label and report printing:
Laser printer for reports
Electrical and approvals:
100 - 120 VAC, 50/60 Hz, 1.0 A
1Credit account terms and eligibility are determined by The Pitney Bowes Bank, Inc. Member FDIC. 2 Savings is on letters up to 3 ounces. Actual savings may vary depending on weight, zone and services requested.