Ho, ho, hold on—where's my package?
Consumers trust small & local businesses least to deliver on time this holiday season
The holiday season is stressful at the best of times. So much to do, so much to organize, so many presents to buy. And this year, add to the list the recent memory of pandemic-fueled delivery delays even from Amazon—it's enough to make consumers worry (more than usual) about gifts being delivered on time for the holidays.
In our latest edition of BOXpoll—Pitney Bowes weekly consumer survey on current events, culture and ecommerce logistics—40% of respondents said that they worry small businesses will not deliver to them on time during the holidays, followed closely by local businesses. Small and local top the list among consumers concerned about retailer reliability.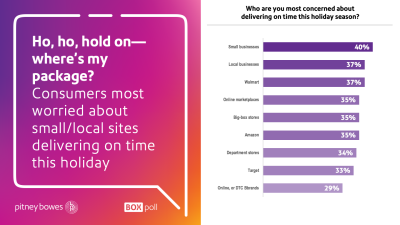 The downside of curbside: consumers may be worried it won't scale for peak
Meanwhile, Walmart, Target, Dick's Sporting Goods, and Best Buy—among other big box and general merchandise chains—reported remarkable Q2 earnings and surges in online orders as consumers leveraged curbside pickup and available store inventory to satisfy early pandemic demand. One CNBC analyst described Dick's quarterly earnings and sales growth as 'eye-popping.'  
But as consumers contemplate where they'll place their orders this holiday season, these same large players are causing about as much worry as Amazon. In what must be an ego-bruising thought for Walmart, consumers were equally (at 37%) worried about the supply chain pioneer as they were about local businesses. Meanwhile, 1/3 of consumers are worried about online marketplaces, big box stores, and department stores delivering on time this holiday. 
Direct-to-Consumer (DTC) brands trusted the most to deliver on order experiences
Perhaps a consolation prize, pure play online/DTC brands are the most trusted (or put another way, the least worrisome) to deliver on time this holiday season, with only 29% of American consumers expressing any concern. However, some consumers were more worried about DTC brands—and many appear to be highly valuable consumers:
40% of Gen Zers were worried about DTC delivery reliability
38% of consumers with higher income (100k+ annually)
47% of consumers whose income has grown since the start of the pandemic
And 49% of consumers who felt they were in the early stages of the pandemic
This indicates a high degree of concern among core target audiences for DTC and other online brands, even though consumers overall are least worried about these retailers.
BOXpoll by Pitney Bowes, a weekly consumer survey on current events, culture, and ecommerce logistics. Conducted by Pitney Bowes with Morning Consult // 2094 US consumers surveyed Aug. 21-24, 2020. © Copyright 2020 Pitney Bowes Inc.