Drumroll, please: The winners of the 2022 BOX awards
We recognize brands who demonstrate excellence in ecommerce order experience.
We launched the BOXtools platform in 2021, with the intent of helping ecommerce brands identify and capitalize on the Best Order eXperience (ahem, BOX). Since the start of the COVID-19 pandemic, defining a 'good' order experience has been a moving target—consumer preferences, macroeconomic trends, health & safety concerns have all impacted how we define this term.
Now, in 2022, the definition is changing once again, as consumers cut back on spending in certain categories and the novelty of travel and shopping in-store begins to wear off. In service of continuing to redefine what makes for the 'best' order experiences, we're launching the first-ever BOX awards. These awards recognize brands who offer indelible and differentiated features in three of the 'pillars' of the ecommerce order experience: Checkout, Tracking, and Unboxing.
Checkout: Victoria's Secret
Friction kills cart conversions. Overwhelming consumers with too many shipping options can cause visitors to spend too much time thinking, leaving open the door to abandoned carts. But not enough shipping options prevents 'appointment purchasing' (when a customer needs a product by a certain date). For that reason, we consider best practice offering one delivery option per day on average, giving a customer who needs a product in a certain number of days a clear and obvious choice.
According to our BOXpoll research, keeping promises is more important to customers than being fast. More than half of consumers (and 60%+ of women) agree that an accurate estimated delivery date is more important than fast shipping. Additionally, shoppers prefer precise delivery quotes (i.e., the number of days or date of delivery) over ranges.
Victoria's Secret provides an easy, efficient, and fast checkout experience with slick, easy to use UI/UX that accelerates the customer experience. The retailer gives its customers a variety of options, including multiple shipping methods with day-definite delivery estimates, alternative delivery methods like in-store pickup and gifting options for those looking to surprise someone special.
Tracking: Etsy
It's true, waiting is really the hardest part. According to more than a year's worth of responses to our BOXpoll Weekly Trackers, consumers check tracking an average of 3.5 times per order, with Gen Z and Millennials checking an average of 5.6 and 4.4 times per order, respectively.
When it comes to how consumers prefer to receive tracking information, email remains king: 53% of consumers overall prefer it over other channels. However, SMS/text is gaining on email, with Gen Z naming it their #1 preferred channel for tracking notifications and sign-up rates more than 2x that of email. Given these facts, we recommend retailers offer both email and SMS tracking options, and leverage tracking pages for post-purchase marketing.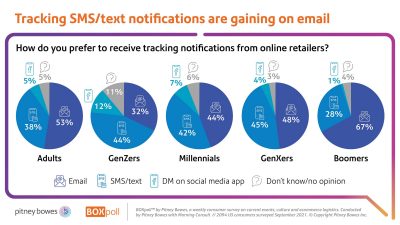 In Etsy's case, they decided to go all in with a large, interactive map that shows the entire package journey in one easy interface. Along with this, Etsy uses our Designed Delivery service—which includes APIs for tracking— to send branded notifications via email, SMS, and social messaging and provide a variety of other features to maximize customer experience.
Unboxing: BarkBox
The value of a great unboxing experience can, in fact, be measured. According to our BOXpoll surveys, certain packaging features— for instance, a high-quality box and tissue paper—can increase the perceived value of an online order by more than 10%.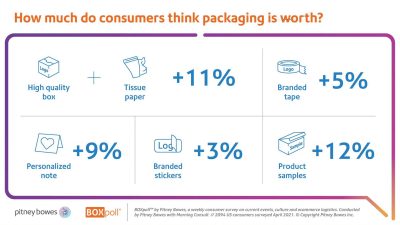 BarkBox goes all in on creating a surprising, vibrant and personalized experience when it comes to opening their monthly subscription box of toys for our four-legged friends. Through our Designed Fulfillment services, BarkBox leverages AI robots that can handle complex kitting requirements to create a unique, customized unboxing experience for its customers.
On behalf of the Pitney Bowes Global Ecommerce team, we'd like to congratulate the winners of our first-ever BOX awards. Visit our LinkedIn feed for more up-to-the-minute details on the 2022 BOX awards. For a complete collection of insights on each step of the ecommerce experience, check out the 2021-2022 Order Experience Index.